Last week we had a looked at the largest South African Exchange Traded Funds (ETFs) and they were, well small.
Globally however the leader board of late ETFs is truly large as the table below shows.
| | | | |
| --- | --- | --- | --- |
| Name | Code | Value | Corresponding company |
| SPDR S&P 500 ETF Trust | SPY | $424,541,000 | VISA |
| iShares Core S&P 500 | IVV | $327,528,000 | Adobe |
| Vanguard Total Stock Market | VTI | $292,809,000 | Netflix |
| Vanguard S&P 500 | VOO | $278,049,000 | Nike |
| Invesco QQQ Trust (Nasdaq) | QQQ | $211,082,000 | Verizon |
The largest in the world, SPY, is also the worlds first ETF listing on NYSE in January 1993 and it has a Total Expense Ratio (TER) of some 0.09% which also makes it somewhat expensive with, VOO for example, having a TER of 0.03%.
It's also worth noting that these top 5 are larger than the entire JSE with our market worth some R20trillion and the top 5 worth over R24trillion.
Finally, Visa, which is as large as the worlds largest ETF, is the worlds fifteenth largest company in the world.
Simon
---
ETF blog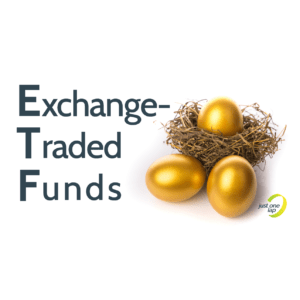 At Just One Lap, we are big fans of passive investment using ETFs. In this weekly blog, we discuss ETFs on the local market and the factors you need to consider when choosing an ETF. If you have wondered how one ETF differs from another, this is where you can find out. We explain which index each ETF tracks, what type of portfolio could benefit from holding each ETF, and how the costs will affect your bottom line.
---
---
Subscribe to the Just One Lap weekly newsletter here