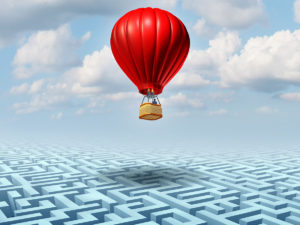 The Satrix FINI ETF tracks 15 locally listed financial companies, including all of South Africa's major banks, insurance providers and real estate investment trusts (REITs).
The ETF is weighted by market capitalisation and currently has 43% exposure to the banking sector. Over the past five years, the ETF has proved very lucrative indeed, returning over 90%. It might be possible to gain exposure to our world-class banks for a song following a downgrade. However, it will be difficult for banks to operate effectively in a junk environment, making another 90% return over five years challenging.
The generous 3.8% dividend yield over the past 12 months might make this a tempting choice for an income-generating portfolio. Once again, however, it's worth considering what impact a ratings downgrade will have on the performance of this ETF.
Weekly expert: Petri Redelinghuys
Herenya Capital's Petri Redelinghuys is no stranger to this site. This week we ask Petri to help us understand the Satrix FINI.
What sets this ETF apart from other, similar ETFs?
This ETF tracks as closely as possible the FTSE/JSE Financial 15 Index. Therefore this ETF allows investors to gain exposure to the 15 biggest players in the Financial Services sector that are listed on the JSE. The heavyweights in this particular index are Standard bank, Old Mutual and Firstrand – together making up 38% to 40% of the total index – which is great, because they are on an individual basis all really great companies. The index does also have an almost 18% allocation in REITS (Real Estate Investment Trusts – or property stocks). The rest is made up of a mixture between small allocations in other financial services companies and holding companies. The index itself has been very strong over the last few years and thus the Satrix FINI has proven to be a very strong performer since the dust settled after the 08/09 financial crisis.
What limitations should investors be aware of?
I would think a number of things really. Firstly the asset allocation is not a pure representation of firms in the financial services sector as there is a large chunk of property stocks in it. Also, and perhaps this is more opinion than fact, with the prospect of higher interest rates in the US as well as a looming potential sovereign ratings downgrade for SA, this index/ETF might be susceptible to some rather sharp sell offs if all goes pear-shaped. I am of the view that the trade for the next 12 to 24 months will be to be invested in resources rather than industrials and financials.
What type of portfolio would benefit most from holding this ETF?
There are two main types of portfolios that would hold this stock. Portfolios belonging to those who want a decent diversified investment portfolio and are prepared to allocate only 10% to 20% into the FTSE/JSE Financial 15 Index as a means to diversify. These individuals might also believe that despite the geo-political risk and various macro-economic risks that are present (read: Trump, FED, Moody's et al.) the market will keep going higher for the foreseeable future (I'm one of those). Or of course, portfolios belonging to those who think that the property price boom will never end and our local financial services industry will soon start to set a breakneck growth rate again and are looking to back that view with all their eggs. Those individuals might go all in on this ETF, although I have my doubts about the wisdom in that.
Unpacking the Satrix FINI ETF
ETF name

Satrix FINI

JSE code

STXFIN

ETF issuer

Satrix

Issue date

8 February 2002

TER*

0.39%

ETF benchmark

FTSE/JSE Financial 15 index

Tax-free savings account

Investment allowed

ETF major holdings

View the full list here

Market cap*

R835m

Performance

1 year -10.7%

3 year +21%

5 year +90.2%

Dividends*

3.8%

What we like

South Africa's financial services sector is respected the world over. The performance of this ETF over the past five years speaks to that. We are, however, cautious of what the future holds – especially for South African banks.
Upcoming webinars
Click here to meet the Just One Lap team at one of our live, free events.
Subscribe to Just One Lap