Simon Shares
Capitec* (JSE code: CPI) through results got everybody talking about the "arrears coverage ratio" dropping to 208% vs. 223% previously and vs. 196% in 2015. This got all the attention last time as well, I not concerned and my 'aggressive' buy price is now around R719.
I have some USD expenses due in the next week or so and have taken a hedge using NEWUSD* just in case.
Anchor Capital results showed a serious slowing of growth but still a stock with a great looking future and at around 600c very attractive.
I have been trying to add to my very very small Sea Harvest* holding but I don't want to chase the stock as I think we may see some weakness in the weeks ahead. 1275c would be my ideal entry. It traded 1270c last week, but I wasn't paying attention and missed them.
UK has triggered Brexit and now Scotland wants out of the UK.
Upcoming events
Protecting yourself from the Rand
With the Rand getting all hot and bothered again after a protracted run stronger I thought a quick look at how we can manage our portfolio against a weaker currency. We have the easy things like offshoreOffshore investments refer to investments made in countries other than the one you live in. These investments allow you to take advantage of a better investment environment, different tax regulations, or simply to protect your portfolio from risks affecting your local investments. Here are some posts that discuss offshore investing: ETF: How to buy the whole world Podcast: Offshore ETFs More stocks that are locally listedWhen a company or product is listed, you can buy and sell its shares on a stock exchange like the JSE. Listing on a stock exchange makes it possible for members of the public to invest in a company using the infrastructure provided by the exchange and its brokers instead of going directly to the company to buy shares. These More, offshore earning stocks, locally listed offshore ETFs and the NEWUSD mentioned above. There is also a pure offshore bank or brokerage account or heavily invested into commodity stocks. But the bigger issue is that political squabbles are part and parcel of being a South African investor and Rand weakness is also our future, even if at times we have strength. So we need to build a resilient portfolio that survives these events.
---
Download the audio file here or subscriber to our feed here or sign up for email alerts as a new show goes live or subscribe in iTunes.
---
JSE – The JSE is a registered trademark of the JSE Limited.
JSEDirect is an independent broadcast and is not endorsed or affiliated with, nor has it been authorised, or otherwise approved by JSE Limited. The views expressed in this programme are solely those of the presenter, and do not necessarily reflect the views of JSE Limited.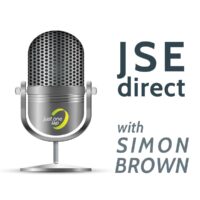 Podcast: Super cycle or just super
dividends
When a listed company shares profits with its shareholders, the cash amount paid to the shareholder account is called a dividend. It's usually expressed as cents per share or, in the case of ETFs, cents per unit. The more shares or ETF units you have, the more dividends you receive. These posts discuss dividends in more detail: OUTstanding money: Dividends More
?
Meet the Just One Lap team at these free live events
Click here to meet the Just One Lap team at one of our live, free events.
Subscribe to Just One Lap