The longer we do this, the more evidence we find in favour of doing tax-free investments before any other kind of investing. To do that, you need to understand why paying no tax makes a huge difference to how much money you end up with. You also need to understand that there's a difference between tax-free accounts and ordinary investment accounts. Lastly, you need to know why it's important to buy an investment product within a tax-free investment account.
This week's episode of The Fat Wallet Show is audio from our annual tax-free investment presentation. In it, Simon Brown explains everything you need to know about tax-free investments and shares some ideas on choosing the right type of product.
Find our conversation on tax-free investing here.
The video of this event is here.
---
---
---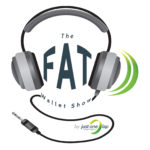 The Fat Wallet Show is a no-nonsense personal finance and investment podcast hosted by Kristia van Heerden and Simon Brown. Every week we answer questions by a growing audience of finance enthusiasts. Submit your pressing money and investment questions to ask@justonelap.com.
---
Subscribe to the Just One Lap weekly newsletter here