2021 predictions show
Every year Marc Ashton, Keith McLachlan and Simon Brown do a predictions show. Three wild and woolly predictions for the markets followed by a call on the Top40 and ZAR for the year ahead.
Importantly we start each show with a review of the previous year's predictions and you'll find the 2020 predictions show here.
---
---
The 2021 predictions are (listen for reasoning);
Not more than 10% of SA population (6million) vaccinated during 2021
Gold close 2021 +$2k
Ford & GM out preform Tesla
Top40 ~ green
ZAR ~ stronger
Resi10 in $ will beat Nasdaq
US ten year real yield (less inflationInflation refers to how much you can buy with the same amount of money over time. R100 can buy you a bread, milk and a dozen eggs today. If those products become 10% more expensive within a year, you will need R110 to buy the same products next year. If you keep all your savings in cash, your cash will be More) will be negative
Eastern Cape house price inflation will beat Gauteng
Top40 ~ green
ZAR ~ stronger
Russel 2000 beats S&P500
Resi10 beats Fini15 & Indi25
No US or ZA rate increases this year
Top40 ~ green
ZAR ~ stronger
---
JSE – The JSE is a registered trademark of the JSE Limited.
JSE Direct is an independent broadcast and is not endorsed or affiliated with, nor has it been authorised, or otherwise approved by JSE Limited. The views expressed in this programme are solely those of the presenter, and do not necessarily reflect the views of JSE Limited.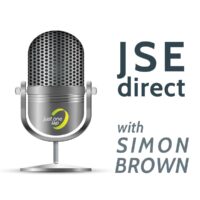 Podcast: Super cycle or just super
dividends
When a listed company shares profits with its shareholders, the cash amount paid to the shareholder account is called a dividend. It's usually expressed as cents per share or, in the case of ETFs, cents per unit. The more shares or ETF units you have, the more dividends you receive. These posts discuss dividends in more detail: OUTstanding money: Dividends More
?
JSEDirect Podcast
Meet the Just One Lap team at these free live events
Click here to meet the Just One Lap team at one of our live, free events.
Subscribe to Just One Lap