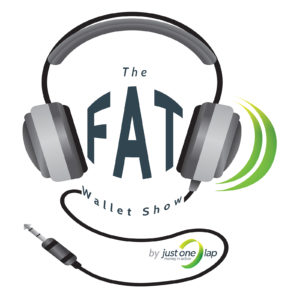 For many South Africans, saving simply isn't an option. Either they don't earn enough to be able to save, or they have too many familial obligations to do so. In this episode we offer some tips on things you can start doing on a very low income to put yourself in a better financial position in the future. We also talk about some common traps high income earners fall into.
If you're already too scared to listen, here's what we talk about:
Why insurance might be a better idea than an emergency fund.

Why a low income is the best place to start preparing for a bright financial future.

Why debt is not your friend.

How cost per use or cost per unit can help you make better financial decisions.

Why you shouldn't avoid paying tax.
Our win of the week is Lesegisha, who is foregoing sushi in favour of education. As you'll hear, his letter blows my mind in this episode. For that reason, I'm republishing it in full here.
I am a pious listener of The Fat Wallet Show and the proud contributor to Lewis dragging down our Fat Wallet Index. When I heard the topic of this week's show I knew you guys were still sticking to what it says on the label and giving advice to the little guy on the street.

Thank you for that and it'll pay dividendsWhen a listed company shares profits with its shareholders, the cash amount paid to the shareholder account is called a dividend. It's usually expressed as cents per share or, in the case of ETFs, cents per unit. The more shares or ETF units you have, the more dividends you receive. Dividends make compounding possible in share investments. When you use More in future if not cheap wine.

I am a 26-year-old full-time postgraduate student (I'm lucky I know but here me out) living on R6000 a month.

This may sound like a lot for a student but bear in mind I have previously held a full time paying auditing job with plenty of travel perks and whatever bells and whistles that come with the occupation. So I have tasted the fruits of freedom and R6,000 in that context is worse than my life before I knew what sushi tastes like.

I've been studying the topic of investing, business and leadership since I was 15, reading Rich Dad Poor Dad and can say the easiest and biggest investments that one can make on a small paycheque is in their financial literacy.

The concept of pay yourself first cannot be overemphasised.

In my budget the first R300 goes towards everything finance and investing related. I split it R120 for my active share portfolioIn the world of finance, a "portfolio" is a term to describe all the assets you own. It includes shares, cash, bonds, physical property, your retirement savings, your tax-free savings and any other financial instruments you might hold. It excludes insurance products like life insurance. Your overall portfolio can be made up of a number of portfolios held at different, R120 for my tax-free savingsTax Free Savings Account. A fully tax-free investment account limited (as at 2021) to R36,000 a year and R500,000 lifetime limit. Only certain ETFs are eligible for this product. More portfolio and R80 into a rolling emergency fund which I draw down to R80 after three months to invest the excess in my active portfolio and my tax-free savings. I've been with EasyEquities from the very beginning.

"Lost money" that I find in my jeans, birthday presents etc I take in cash or direct my friends and relatives to make deposits to these accounts.

I make sure that at least once a year the R300 buys me a decent book that can help me stay on course. My Best Buy and read so far was Fooled by Randomness by Nicolas Taleb and Security Analysis by Ben Graham (which costs the equivalent of six months' investing capital).

The reason I do this is to entrench the habits of having my money work for me while it's in triple digits so that when I eventually break my glass ceiling the pressure isn't there to learn habits that I had the opportunity to learn before lifestyle creep.

My biggest belief is that the size of my return will be materially disproportionate to my input not because I'm gambling, but because I take the time to learn as much as I can about the basics of money that you guys mention. I always look to put my money hard at work where it'll earn me the biggest most predictable returns.

The law of compounding interestInterest is how much it costs to borrow money. You can either earn interest when you lend money to somebody else or pay interest when you borrow money. Interest is the reason why debt is expensive. In addition the money you borrowed, you have to pay back an additional fee in exchange for using money that you didn't have. says, start early not start big.

The rest of the R5700 I survive on with the piece of mind of knowing that I have used the best part well and that there will always be someone who is surviving on waaaay less and not complaining.

But my key takeaway is that on a small paycheque education is your biggest investmentAn asset or item that is purchased with the hope that it will generate income or appreciate in the future. In an economic sense, an investment is the purchase of goods that are not consumed today but are used in the future to create wealth. In finance, an investment is a monetary asset purchased with the idea that the asset More and then pay your future self first. The rest is survival as we know it.
Kristia
---
Meet the Just One Lap team at these free live events
Click here to meet the Just One Lap team at one of our live, free events.
Subscribe to Just One Lap