The new Sygnia Itrix Solactive Healthcare 150 ETF was listed on 6 August making it a mouthful of a name and the first pure healthcare ETF on the JSE.
This is also the first time that Solactive has been used for a benchmark in South Africa. Solactive is a specialist indexing German firm founded in 2007 and they have almost 500 ETFs tracking their various indices.
This new ETF includes 150 developed market healthcare stocks and is dominated by US stocks at 68.5%. Switzerland is next at 8.4%, Japan 4.4% and Great Britain 3.7%.
The Top ten holdings are below and no real surprises;
Johnson & Johnson ~ 6.0%
Unitedhealth Group Inc. ~ 5.3%
Roche Holding AG ~ 3.7%
Pfizer Inc ~ 2.9%
Novartis AG ~ 2.9%
Abbott Laboratories ~ 2.9%
Thermo Fisher Scientific INC ~ 2.8%
Abbvie Inc ~ 2.7%
Eli Lilly & Co ~ 2.7%
Merck & Co Inc ~ 2.7%
ETF details
Target TER: 0.5%
JSE code: SYGH
Tax-free investing: Allowed
What do we think?
I still like a single global ETF and have long not liked healthcare as an industry due to regulatory risks. Sure, the trend for healthcare is strong with an ageing population globally. But healthcare costs have been rising well ahead of inflation and governments the world over are not happy.
That said.
The Covid-19 vaccine makes me wonder about changing my view. If we end up with annual booster shots, we then have a few drug companies who have essentially stumbled into an annual +US$75billion industry. The math is; 3billion booster shots a year (out of a global population of 8billion) and US$25 a shot = US$75billion.
Now governments are going to fight back against this profit drive for a vaccine but have already seen Pfizer and Moderna increase the price to the European Union by 25% and 13% respectively. I think the industry has several years of super vaccine profits.
So, am I buying?
Not yet, I may rather just buy one of the vaccine companies directly. I am still digging into that idea and importantly my regulatory concerns remain real, but I think the vaccine at around US$25 a shot will slide under the radar for some time. Importantly the global healthcare industry is about US$1.5trillon with profits of some US$120billion. I suspect profit margins on the vaccine will be monster and could double Johnson & Johnson profits after they made some US$6.278billion net profit in Q2 2021.
Simon
---
ETF blog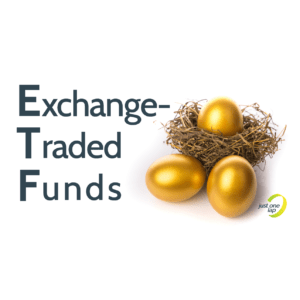 At Just One Lap, we are big fans of passive investment using ETFs. In this weekly blog, we discuss ETFs on the local market and the factors you need to consider when choosing an ETF. If you have wondered how one ETF differs from another, this is where you can find out. We explain which index each ETF tracks, what type of portfolio could benefit from holding each ETF, and how the costs will affect your bottom line.
---
---
Subscribe to the Just One Lap weekly newsletter here