Thinking about how you are going to spend your money when you haven't yet started earning any seems like putting the cart before the horse. However, if you've been earning money for a while you probably have monthly expenses that are difficult to account for. Why is that we can plan every other aspect of our lives, but our financial decisions are often without direction.
In our first ever recording in front of a live audience, Simon and I discuss how to create structure around your salary. We explain, once a again, the five financial concepts that will enable you to make a good financial decision every time. To recap, they are:
Interest

Inflation

Compounding

Assets and liabilities

Indices and index-tracking products
We discuss the expense categories that will apply to most of our finances. First, you have unavoidable costs to keep yourself alive. Secondly, you have a bunch of costs that you can avoid in the short-term, but that will benefit you in the long-term. Next, you have costs that can improve your quality of life. These are the perks. Finally, you have costs that you can't avoid because you are part of the formal money system. We're talking here about banking and brokerage fees and interestInterest is how much it costs to borrow money. You can either earn interest when you lend money to somebody else or pay interest when you borrow money. Interest is the reason why debt is expensive. In addition the money you borrowed, you have to pay back an additional fee in exchange for using money that you didn't have. These More.
While the first and third categories tend to capture our imagination and the fourth is mostly ignored, our future financial security depends on the second category. Keeping your costs low in category one, three and four frees up money to really help you secure your future.
We argue that your bank account should tell a story about your values. If you don't know what you want your money to do for you, you're going to end up spending it on things that don't matter to you.
When you wonder about what you want from your money, there's no such thing as a wrong answer. If you want to travel the world with your money, you should. If you want to retire in ten years, write that. If you want to spend your money on your hobby, that's good too. Once you have taken care of your future self through long-term savings like retirement and tax-free savingsTax Free Savings Account. A fully tax-free investment account is limited (as at 2021) to R36,000 a year and R500,000 lifetime limit. Only certain ETFs are eligible for this product. These posts are a good place to start: Video: Everything ETFs and tax-free OUTstanding money: Saving tax free Wealthy Maths: The impact of tax-free investing Podcast: Your first tax-free investment More, your bank account should reflect what is most important to you.
Finally, we are so grateful to Marc Ashton and the Moneyweb team for the opportunity to speak at the expo and get a chance to interact with all of you. Thanks for stopping by and making our morning a success. Congratulations to Ernst Jordaan for being our first IRL win of the week. 
Find part two of structuring your pay cheque here.
Kris
---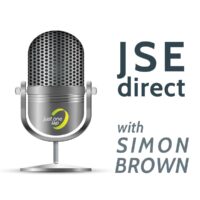 Podcast: Super cycle or just super
dividends
When a listed company shares profits with its shareholders, the cash amount paid to the shareholder account is called a dividend. It's usually expressed as cents per share or, in the case of ETFs, cents per unit. The more shares or ETF units you have, the more dividends you receive. These posts discuss dividends in more detail: OUTstanding money: Dividends More
?
Subscribe to Just One Lap