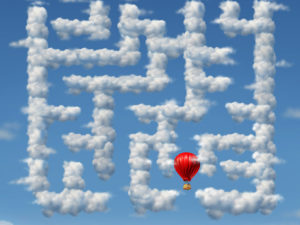 Earlier this year we asked our ETF experts what they would buy if they only had R300 to invest. Nerina surprised us by selecting the db X-tracker FTSE 100 ETF, better known as the DBXUK. In the weeks following Brexit, where the United Kingdom voted to no longer be part of the European Union, the pound was struggling. Local politics were a hot mess, but not finance-minister-in-jail-messy and Deutsche Bank still seemed like the picture of stability.
We love ETFs because they should remain largely unaffected by the madness around us. Even if Deutsche Bank isn't restored to its former glory, ETF investments are underpinned by physical assets and, theoretically at least, investors should have a measure of protection. Of course, 2016 has taught us that no assumption will go unchallenged. I'm not sure I believe that everything will be butterflies and unicorns should Deutsche Bank go gently into that good night. This is a helluva year to find a place to grow your money.
Nevertheless, if you find that Nerina's arguments still hold true, you think there's an investment case to be made for the UK and you have reason to believe Deutsche Bank will pull through, this ETF might be the one. Godspeed.
As the name implies, the ETF invests in the 100 biggest companies listed on the London Stock Exchange. The ETF is weighted by market capitalisation and will give you exposure to 81% of the UK market. While these companies are listed in the UK and the fund currency is British Pound (GBP), our weekly expert Keith Mclachlan believes the index's exposure to multinational corporations doesn't offer that much exposure to the pound, if that's what you're after.
Weekly expert: Keith Mclachlan
What sets this ETF apart from other, similar ETFs?
Nothing. This is a vanilla index exposure to blue chip UK-listed companies. Currently, its major holdings are across banking, oil, tobacco and pharma, such as the market cap weightings of the UK's FTSE 100 index exist. Given that most (if not all) of these companies are multi-nationals, this isn't even really a GBP-exposed ETF. It is largely just another blue chip, market cap weighted ETF option.
What limitations should investors be aware of?
All market cap weighted ETFs have a momentum element to their strategy. This one is no different.
What type of portfolio would benefit most from holding this ETF?
Those that do not have any exposure to major, multinational, blue chip equities.
Unpacking the DBXUK
ETF name

db X-tracker FTSE 100

JSE code

DBXUK

ETF issuer

Deutsche Bank

Issue date

10 October 2005

TER*

0.86%

ETF benchmark

FTSE 100

Tax-free savings account

Investment allowed

ETF major holdings

View all 100 companies in the DBXUK here

Market cap*

R989m

Performance*

1 year -10.2%

3 year +9.7%

5 year +71.2%

Dividends*
3.88%

What we like

This ETF is the best option for local investors who believe that the UK is the world's next big investment opportunity.
*15 November 2016
Upcoming webinars
Click here to meet the Just One Lap team at one of our live, free events.
Subscribe to Just One Lap