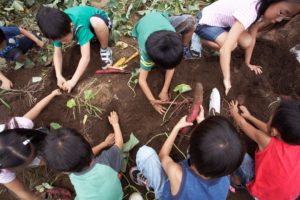 Christmas is three months away. I think if we want to do Christmas ethically, it's probably wise to start now. It gives us time to slowly get the different pieces in place and avoid the December mayhem!
I have written about this here, here and here. This year I'm trying to do it even better. This article was inspired by my 9-year-old son asking "Mama, for Christmas this year please can I have a present that is helping someone else?" He had just found his card from last year where his Christmas gift had been the gift of goats to a family in Mozambique (through Oxfam UK) – and he wanted to do it again!
Inspired by my son I decided we will do Christmas ethically this year, and here are my top tips on how we will do it:
Ethical gifts: this is such a wonderful way to do Christmas ethically, enjoy giving and receiving, while also helping others and not contributing to over-consumerism and more stuff in our homes. Many NGOs and charities ask for donations to projects – gifting to people who need food, educational support, agricultural inputs etc. A quick Google search reveals so many ideas. There are the international NGOs that have been doing this for years. You even get a great card with a picture of the family or project being supported, and we have wonderful local options. I've just found a site that lists many local NGOs and CBOs who specify what donations they need and you decide what to support. Google it, the options are great. I still believe in a few small gifts for us to enjoy, but fewer this year.
Ethical eating: yes, food is delicious and sharing meals is one of my favourite things to do, but as a part of doing Christmas ethically we will try to make sure our Christmas spread is bought local and organic where possible and cooked ourselves with love. We will also have less!
The decorations: I think a part of doing Christmas ethically means not buying lots of things, especially lots of breakable plastic things. We love the Christmas tree and making the table look gorgeous, but let's do it differently. Let's re-use last year's decorations and resist the silly temptation to buy more. Let's say no to those adverts! If you have kids, they really love making decorations. They are so proud of them, and it's a great thing to do over the holidays. We love making our own crackers, you can even get the 'bangs' to put inside.
Sharing our time & skills: if you have leave over the holiday season, you could consider some volunteer work. It's a great way to support others and I think goes a long way to support the spirit of Ubuntu in SA.
So, let's all try to do Christmas ethically this year!
In my next column, I will share my experience of doing a quick audit of all my policies. Are they all still up to date? Does any needing changing or cancelling?
---
Money Cents blog
Meet the Just One Lap team at these free live events
Click here to meet the Just One Lap team at one of our live, free events.
Subscribe to Just One Lap