Our personality for this month is Ess (EMukumbo)
How long have you been investing and what got you started?
I started seriously investing 4 years ago. I was inspired after hearing super-saver Julia on radio 702 – she had been consistently investing and managed to grow her money exponentially. I was amazed by the prospect of having my money work for me.
What was the first ETF you bought and why did you buy it?
I heard about an ETF that was tracking the S&P 500 and I was very interested to hear that I could buy it with Rands. I am not sure exactly when this was, but I can tell you it was before I started listening to the Fat Wallet Show and before I knew about Minimum Disclosure Documents (MDD).
How many ETFs do you currently hold?
I hold 7 ETFs and I am actively adding to 3 of them. After learning more about Exchange Traded Funds, I realised that I didn't need to own so many. Nevertheless, I have kept the others rather than sell them.
What are your favourite local listed ETFs, and why?
I like Coreshare Preftrax, Satrix Resi10 and 1invest Property SA, because they generate dividend income for my Tax-Free Investment account. This has two benefits. Firstly I avoid dividend tax, and secondly, I reinvest the quarterly dividends. This means that my annual TFSA "contribution" is boosted by my dividend income.
What are your favourite offshore listed ETFs, and why?
Vanguard High Dividend and Global X Nasdaq 100 covered call (monthly dividend income) are my favourites. I have built my US portfolio to maximize my dividend income in Dollars. This way I can use the dividends to reinvest and grow my US portfolio, without having to convert Rands into Dollars.
Do you also hold individual shares?
Yes I do, I have some experience with successful stock picks. However, my ETFs act as the foundation and building blocks of my portfolio, whilst the individual shares are my opportunity to get a "multi-bagger". I have this hope that one (or three) of my shares will be multiple 10X in the future. I look up to the likes of PSG and Naspers (in the past) that became multi-baggers, creating good value for their shareholders.
What is the percentage split between ETFs and shares?
ETFs make up 40% of my portfolio. Most of these are in my Tax-Free Investment account and in the US, whilst I am bolder with picking individual shares on the JSE.
How do we hear more?
I write a column for Financial Mail once a month, so you can grab a copy. And of course I'm active online:
Twitter, Instagram, Tiktok and Youtube my handle is Emukumbo
Facebook: Journey to Financial Freedom with Ess
---
ETF blog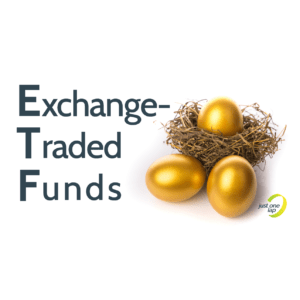 At Just One Lap, we are big fans of passive investment using ETFs. In this weekly blog, we discuss ETFs on the local market and the factors you need to consider when choosing an ETF. If you have wondered how one ETF differs from another, this is where you can find out. We explain which index each ETF tracks, what type of portfolio could benefit from holding each ETF, and how the costs will affect your bottom line.
---
---
Subscribe

to the Just One Lap weekly newsletter