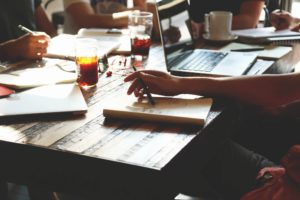 The world tends to go up in flames around this time of year. A looming elective conference and a market in shock over astronomical fraud in one of our top 40 companies has most of us reeling. You might recall having a similar feeling around this time last year. Donald Trump was just elected and we were preparing for an economically crushing downgrade. The year before that we were trying to make sense of the abrupt firing of finance minister Nhlanhla Nene. It seems like an annual global conspiracy to ruin our holidays.
Nobody would think any less of you if you wanted to sell all your investments and move to the deep Karoo. However, before you start stockpiling fuel and packing your Venter, we'd like to remind you that your ETF is built to come through for you.
ETFs are agnostic to news and reflective of the preferences of the market. Until very recently, the local market liked Steinhoff, which is why your local ETF includes that company. Now that Steinhoff's dodgy practices have been exposed, the market has fallen out of love with it. At the next rebalancing, your ETF will reflect this. There's always a new contender to fill the spot of a shunned company, kind of like Game of Thrones. While your ETF performance will be negatively affected by the falling Steinhoff share price until Steinhoff falls out of the top 40, it will benefit from the rising share price of whichever company the market loves next.
Your ETF is similarly positioned to absorb the short-term market movements brought about by local politics. Over the next few weeks we are likely to experience some turbulence. When it comes to politics, we are often knocked about by the movement of the rand against the dollar. These dramatic movements make it seem like there's a lot happening in the market. However, ETFs are rebalanced quarterly, making them less susceptible to the day to day madness of a news-driven market.
Since minister Nene was fired, amid endless reshuffles, threat of nuclear war, downgrades, scandals and Twitter feuds, the local market has gone up by 12%. If you stayed invested in your vanilla top 40 ETF, you are entering your festive season with the knowledge that your assets worked for you.
When news reaches you, be outraged, be involved, but don't be in a hurry to sell your ETFs. The market trends higher over time. Don't stand at the sidelines because the world has gone mad.
This is our last ETF blog until mid-January 2018. May your Christmas stockings be filled with ETF units, may volatility never trouble your sleep and may December 2018 be uneventful.
Upcoming webinars
Click here to meet the Just One Lap team at one of our live, free events.
Subscribe to Just One Lap