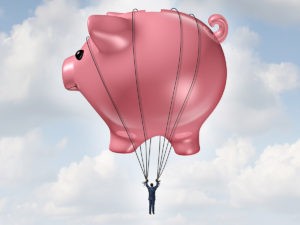 The mad dash to 15 December has started. In addition to enormous pressure to reach your work targets, losing the 13kg promised yourself you'd shake this year and an audio assault of Boney M, you've neglected your accumulation of karma points*. Christmas is coming and to Santa, you are an under-performing active manager with high fees.
Luckily for you there is always an answer in the ETF market. This week we visit the ghost of employment equity past, the ghost of green living future and the ghost of Shari'ah-doesn't-really-have-anything-to-do-with-Christmas present.
NewFunds NewSA ETF
You might remember this ETF caused some consternation earlier this year. The ETF invests in an index that ranks companies according to their transformation efforts. That means the higher the empowerment rating, the more of the ETF you get. The Department of Trade and Industry's (DTI's) Codes of Good Practice on broad-based black economic empowerment (B-BBEE) form the building blocks of this ETF.
You can expect a lot of exposure, about 42% at the time of writing, to the financial services industry, which includes banks. Consumer goods companies and telecommunications companies also take up a lot of space in this ETF.
Your commitment to transformation comes at a hefty 0.71% effective annual cost. Nerina Visser shared her insights into the investment potential of this ETF here.

Historical performance
| | |
| --- | --- |
| 1 year | -12.7% |
| 3 years | +1.1% |
| 5 years | +49.0% |
| Dividend yield | 3.88% |
The CoreShares Green ETF
While I'm tempted to crack a joke about this ETF being for tree huggers and hippies, a quick glance at the top 10 constituents paints a significantly sootier picture.
Companies are selected from the top 100 listed companies for inclusion in this ETF based on the Carbon Disclosure Project ("CDP") and Clean Development Mechanism ("CDM") project databases. In addition to their green initiatives, companies also have to live up to liquidity criteria.
That many of the top 10 constituents of the ETF is made up of mining and resource companies can be explained by the legislative requirements for carbon emissions imposed on companies like Sasol and Kumba Iron Ore.
While this ETF offers a small degree of diversification through investment in property companies and has a reasonable total expense ratio (TER) of 0.45%, I'd strongly advise the environmentally inclined to make a study of the full list of companies before investing.
Historical performance
| | |
| --- | --- |
| 1 year | +11.3% |
| 3 years | +6.0% |
| 5 years | +36.2% |
| Dividend yield | 0.65% |
The Shari'ah Top 40 ETF
This clean living ETF invests in the 40 biggest and most liquid companies listed on the JSE that are also Shari'ah compliant. What does that mean? The ETF doesn't invest in financial services companies, companies that sell alcohol and certain types of food, tobacco and weapons. The companies also have to adhere to financial rules and regulations based on Shari'ah principles.
The investment parameters means that over half of this ETF is invested in basic materials, with BHP Billiton and Anglo American taking up a significant chunk of the ETF. In fact, this ETF could be a good alternative to the Satrix Resi for investors who like resources, but also want exposure to consumer goods and health care.
Historical performance
| | |
| --- | --- |
| 1 year | -5.9% |
| 3 years | -20.5% |
| 5 years | 0.7% |
| Dividend yield | 2.14% |
*This is a tongue-in-cheek reference to karma and in no way reflects an investment philosophy based on the supernatural.
Upcoming webinars
Click here to meet the Just One Lap team at one of our live, free events.
Subscribe to Just One Lap